Terminix
Salt Lake City Exterminators, Termite, & Pest Control
Enter your information below or call

602.431.4942

602.431.4942
Terminix Salt Lake City
602.431.4942
602.431.4942
US
3568 A West 900 South
Salt Lake City

,
UT
84104
Hours of Operation
| | |
| --- | --- |
| Mon | Open 24 hours |
| Tue | Open 24 hours |
| Wed | Open 24 hours |
| Thu | Open 24 hours |
| Fri | Open 24 hours |
| Sat | Open 24 hours |
| Sun | Open 24 hours |
Schedule Inspection »
RELENTLESS PROTECTION AGAINST EVERY PEST THREAT
The Terminix Salt Lake City Branch is staffed by service professionals who know local pest problems inside and out. We live in the area and work from our location near the Salt Lake City Airport. We understand the threat of subterranean termites, general pests, bed bugs, rodents, mosquitoes and more in the Salt Lake City area. And we're backed by our nationwide network of expertise.
WE KNOW SALT LAKE CITY
The Terminix Salt Lake City Branch serves from Utah border to Utah border. We protect homes and businesses, offering residential and commercial services to customers seeking effective termite and pest control. Best of all, we offer guaranteed solutions, including a money-back guarantee for pest control1 and the strongest residential termite guarantee in the business for qualifying properties.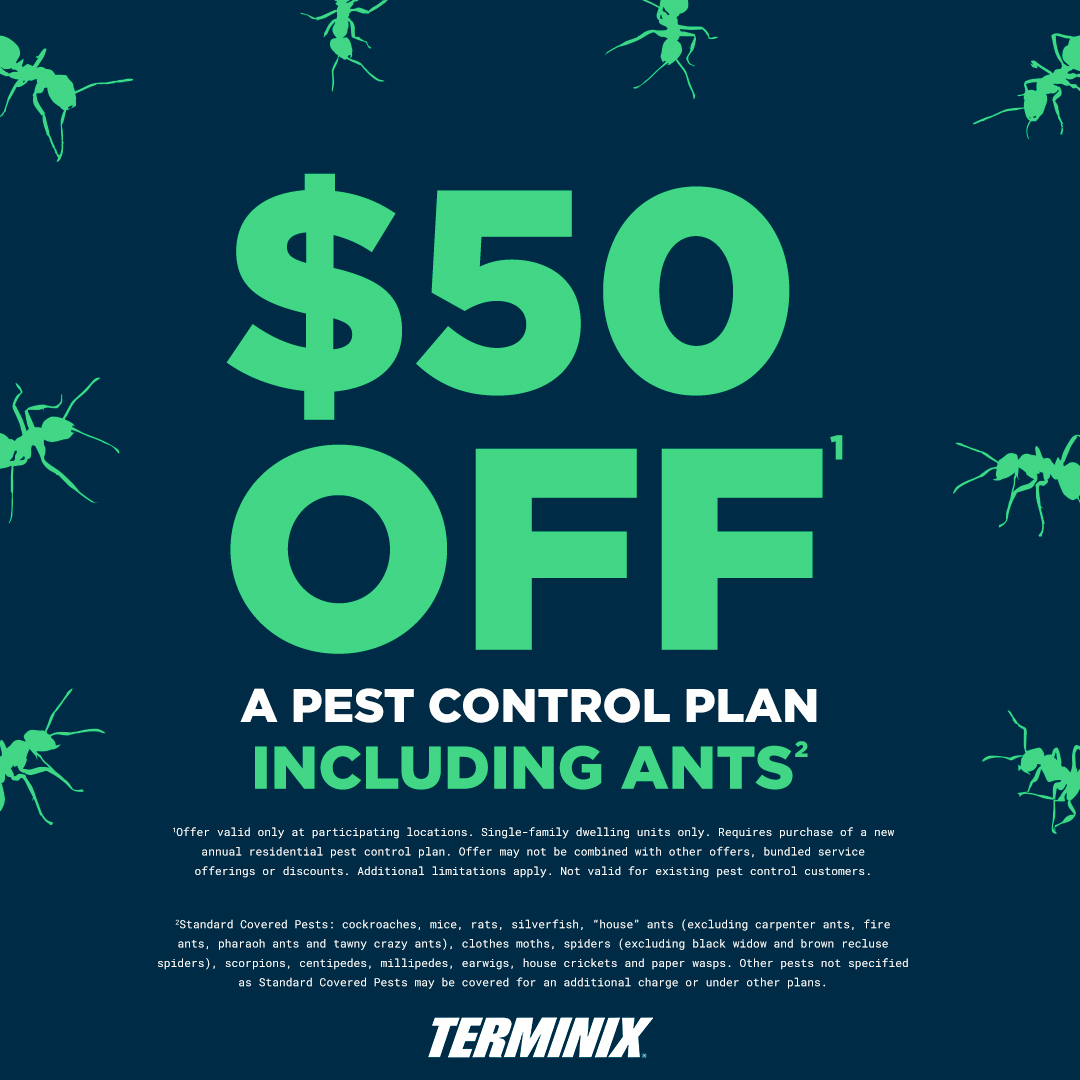 ANT CONTROL FROM TERMINIX
Ant infestations can happen fast. Once they infest your home, they can be very difficult to control. Warning signs of ants depend on the species and may include:
A large number of live ants in a singular area of your home
A trail of ants, possibly starting outside and leading inside your home
Ant nests that look like small piles of soil or dirt
Dead ants, particularly around a window
Early detection and professional ant control can help prevent a small ant problem from becoming a bigger issue. Our experienced technicians know how to find the colony and identify which ant species you're dealing with. Get started with a free quote.
Areas We Serve
Cities Served
Cities Served
AMERICAN FORK
ALPINE
EAGLE MOUNTAIN
BINGHAM CANYON
South Jordan
BOUNTIFUL
CEDAR VALLEY
CENTERVILLE
CLEARFIELD
COALVILLE
CROYDON
DRAPER
DUCHESNE
FARMINGTON
GRANTSVILLE
HANNA
HEBER CITY
HENEFER
KAMAS
KAYSVILLE
LAYTON
LINDON
LEHI
MAGNA
ALPINE
EAGLE MOUNTAIN
BINGHAM CANYON
South Jordan
BOUNTIFUL
CEDAR VALLEY
CENTERVILLE
CLEARFIELD
COALVILLE
CROYDON
DRAPER
DUCHESNE
FARMINGTON
GRANTSVILLE
HANNA
HEBER CITY
HENEFER
KAMAS
KAYSVILLE
LAYTON
LINDON
LEHI
MAGNA
Saratoga Springs
MANILA
MIDVALE
MIDWAY
MORGAN
NORTH SALT LAKE
OAKLEY
HILL AFB
OREM
PARK CITY
PEOA
PLEASANT GROVE
RANDLETT
RIVERTON
ROOSEVELT
ROY
SANDY
STOCKTON
TOOELE
SYRACUSE
VERNAL
West Jordan
WALLSBURG
WEST JORDAN
WOODS CROSS
SOUTH JORDAN
HERRIMAN
SALT LAKE CITY
Salt Lake City
BEAR RIVER CITY
BRIGHAM CITY
EDEN
GARLAND
HONEYVILLE
HOOPER
HUNTSVILLE
HYDE PARK
HYRUM
LEWISTON
LOGAN
MANTUA
MENDON
MILLVILLE
PARADISE
PROVIDENCE
SMITHFIELD
TREMONTON
WELLSVILLE
WILLARD
OGDEN
PRICE
BLANDING
ELMO
MOAB
MONTICELLO
WELLINGTON
PROVO
FILLMORE
FOUNTAIN GREEN
NEPHI
PAYSON
SALEM
SANTAQUIN
SCIPIO
SPANISH FORK
SPRINGVILLE
MAPLETON
STERLING
RICHFIELD
CEDAR CITY
HURRICANE
KANAB
LA VERKIN
MONROE
PANGUITCH
DUCK CREEK VILLAGE
SANTA CLARA
SPRINGDALE
SAINT GEORGE
WASHINGTON
VEYO
DAMMERON VALLEY
Show More
ZIP Codes Served
ZIP Codes Served
84003
84004
84005
84006
84009
84010
84013
84014
84015
84016
84017
84018
84020
84021
84025
84029
84031
84032
84004
84005
84006
84009
84010
84013
84014
84015
84016
84017
84018
84020
84021
84025
84029
84031
84032
84033
84036
84037
84040
84041
84042
84043
84044
84045
84046
84047
84049
84050
84054
84055
84056
84057
84058
84059
84060
84061
84062
84063
84065
84066
84067
84068
84070
84071
84074
84075
84078
84079
84081
84082
84084
84087
84088
84090
84092
84093
84094
84095
84096
84097
84098
84101
84102
84103
84104
84105
84106
84107
84108
84109
84110
84111
84112
84113
84114
84115
84116
84117
84118
84119
84120
84121
84122
84123
84124
84125
84128
84129
84141
84157
84158
84170
84171
84301
84302
84310
84312
84314
84315
84317
84318
84319
84320
84321
84322
84324
84325
84326
84328
84332
84335
84337
84339
84340
84341
84401
84402
84403
84404
84405
84407
84412
84414
84415
84501
84511
84521
84532
84535
84542
84601
84604
84605
84606
84631
84632
84648
84651
84653
84655
84656
84660
84663
84664
84665
84701
84720
84721
84737
84741
84745
84754
84759
84762
84765
84767
84770
84771
84780
84782
Show More
Change Location »
Need More Reasons?
ADVANCED TERMITE CONTROL
Nationally, termites do billions of dollars in damage each year. That's why so many homeowners and businesses in Salt Lake City rely on Terminix, the first pest control company to ever obtain a termite patent.

For more than 85 years, our skilled technicians have used the latest technologies to stop termites cold and provide reliable protection from future invasions. And for qualified homes, we offer the Ultimate Protection® Guarantee, the strongest guarantee in the business. If termites come back and do further damage to your home, we will get rid of them and pay for any new damage repairs.2
SALT LAKE CITY, UTAH RODENT CONTROL: PREPARE FOR RODENT SEASON
With the arrival of fall comes the emergence of rodents like rats and mice across the Salt Lake City area. Rats and mice can chew through wires, eat drywall and tear insulation, leave droppings behind, and destroy your property and belongings. Terminix can help prevent this problem before it even begins – by inspecting your property and customizing a plan to keep rodents out of your home. With our top-notch preventative actions and effective solutions, mice and rats in Salt Lake City will stay far away from your home and property! Get Salt Lake City rodent control today.
EFFECTIVE BED BUG TREATMENTS
Bed bugs are back, and it seems they're everywhere — even in Salt Lake City. But while a bed bug infestation may seem unstoppable, we're fully equipped to take out these intruders. We'll create a customized plan to put bed bugs and their eggs down for good.
Schedule Inspection »
Frequently asked questions
All Terminix Salt Lake City technicians will be equipped with personal protective equipment (PPE) when entering homes or businesses for peace of mind and prevention. We are actively monitoring updates from the Government and local health officials and continually implementing measures and developing plans to prioritise the health and well-being of our employees and customers.

Yes, Terminix in Salt Lake City offers Commercial Pest Control for property management, food warehouses, manufacturing, restaurants, retail, Government properties and so much more!

Yes, Terminix Salt Lake City offers $50 off of Pest Control* service at the current time. *Offer valid only at participating locations. Single-family dwelling units only. Requires purchase of a new annual residential pest control plan. Offer may not be combined with other offers, bundled service offerings or discounts. Offer not valid for Cockroach Treatment Plan. Additional limitations apply. Not valid for existing pest control customers.

Terminix in Salt Lake City is an essential service provider. Always available to speak 24 hours a day, 365 days a year - we provide rodent control, pest control, bird control, pest proofing, drone survey services, fly & insect control and so much more. Visit our website here to find out more:

www.terminixuk.com/pest-control/

.
Call Now