Terminix
Louisville Exterminators, Termite, & Pest Control
Enter your information below or call

502.810.6442

502.810.6442
Terminix Louisville
502.810.6442
502.810.6442
US
11001 Bluegrass Parkway
Suite 320
Louisville

,
KY
40299
Hours of Operation
| | |
| --- | --- |
| Mon | Open 24 hours |
| Tue | Open 24 hours |
| Wed | Open 24 hours |
| Thu | Open 24 hours |
| Fri | Open 24 hours |
| Sat | Open 24 hours |
| Sun | Open 24 hours |
Schedule Inspection »
RELENTLESS PROTECTION AGAINST EVERY PEST THREAT
The Terminix Louisville Branch is staffed by service professionals who know local pest problems inside and out. We live in the area and work from our location in the Jeffersontown area of the industrial park on Bluegrass Parkway. We understand the threat of termites, ants, bed bugs, mosquitoes, mice and more in the Louisville area. And we're backed by our nationwide network of expertise.
WE KNOW LOUISVILLE
The Terminix Louisville Branch serves areas throughout the greater Louisville area, as well as several counties in Indiana. We protect homes and businesses, offering residential and commercial services to customers seeking effective termite and pest control. Best of all, we offer guaranteed solutions, including a money-back guarantee for pest control1 and the strongest residential termite guarantee in the business for qualifying properties.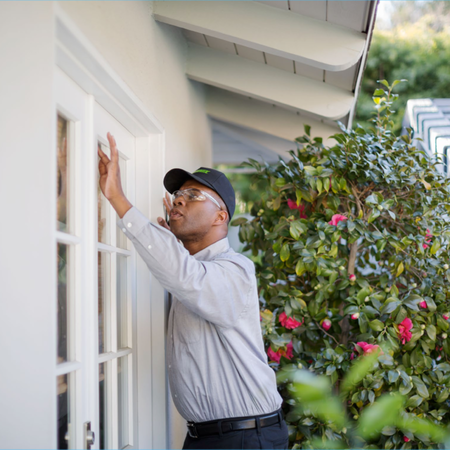 LOUISVILLE IS A TOP BED BUG CITY
BED BUGS CAN BE A HASSLE. GETTING READY FOR THEIR TREATMENT SHOULDN'T BE.
INTRODUCING NO-PREP BED BUG SERVICE FROM TERMINIX!
Bed bug treatments from other providers can be a hassle. Many other pest control providers will ask you to do extensive preparations for their treatment, which can take several hours. Putting this much work into preparing for their treatments might make you wonder why you're paying for them at all.
That's why Terminix developed a No Prep Bed Bug Service! This new service from Terminix allows you to get back to the family and work that is important to you.
What are the main signs of Bed Bugs?
Signs of bed bugs may include small, brown (fecal) spots on bedding and small blood smear on the sheets.
What is the best way to treat Bed Bugs?
Terminix Louiseville's No-Prep Bed Bug Service is ideal to get rid of your potential bed bugs.
How does treatment work with COVID-19? 
We make sure to take every precaution - including wearing the appropriate PPE equipment and contactless payment (where available).
What are other services that Terminix Louisville offers? 
Terminix is one of the nationwide leaders in Termite & Pest Control, Mosquito Control, and Rodent Control. Call us today to find out more!
Areas We Serve
Cities Served
Cities Served
BAGDAD
BARDSTOWN
BEDFORD
BETHLEHEM
BLOOMFIELD
BUCKNER
CAMPBELLSBURG
CHAPLIN
COXS CREEK
CRESTWOOD
EASTWOOD
EMINENCE
FAIRFIELD
FINCHVILLE
FISHERVILLE
GLENVIEW
GOSHEN
HARRODS CREEK
LA GRANGE
LOCKPORT
MASONIC HOME
MILTON
MOUNT EDEN
MOUNT WASHINGTON
BARDSTOWN
BEDFORD
BETHLEHEM
BLOOMFIELD
BUCKNER
CAMPBELLSBURG
CHAPLIN
COXS CREEK
CRESTWOOD
EASTWOOD
EMINENCE
FAIRFIELD
FINCHVILLE
FISHERVILLE
GLENVIEW
GOSHEN
HARRODS CREEK
LA GRANGE
LOCKPORT
MASONIC HOME
MILTON
MOUNT EDEN
MOUNT WASHINGTON
NAZARETH
NEW CASTLE
NEW HAVEN
NEW HOPE
PENDLETON
PEWEE VALLEY
PLEASUREVILLE
PORT ROYAL
PROSPECT
SHELBYVILLE
SIMPSONVILLE
SMITHFIELD
SULPHUR
TAYLORSVILLE
TURNERS STATION
WADDY
WESTPORT
BATTLETOWN
BOSTON
BRANDENBURG
BROOKS
CLERMONT
CLOVERPORT
CUSTER
EKRON
FAIRDALE
FALLS OF ROUGH
FORT KNOX
GARFIELD
GUSTON
HARDINSBURG
HARNED
HUDSON
IRVINGTON
LEBANON JUNCTION
MC DANIELS
MULDRAUGH
PAYNEVILLE
RADCLIFF
RHODELIA
RINEYVILLE
SHEPHERDSVILLE
STEPHENSPORT
UNION STAR
VINE GROVE
WEBSTER
WEST POINT
WESTVIEW
LOUISVILLE
ELIZABETHTOWN
BIG CLIFTY
BUFFALO
CANEYVILLE
CECILIA
CLARKSON
EASTVIEW
GLENDALE
HODGENVILLE
LEITCHFIELD
SONORA
UPTON
WHITE MILLS
AUSTIN
BORDEN
CHARLESTOWN
FLOYDS KNOBS
GEORGETOWN
GREENVILLE
HENRYVILLE
CLARKSVILLE
JEFFERSONVILLE
LEXINGTON
MARYSVILLE
MEMPHIS
MOUNT SAINT FRANCIS
NABB
NEW ALBANY
NEW WASHINGTON
OTISCO
SCOTTSBURG
SELLERSBURG
UNDERWOOD
DEPUTY
DUPONT
HANOVER
MADISON
Show More
ZIP Codes Served
ZIP Codes Served
40003
40004
40006
40007
40008
40010
40011
40012
40013
40014
40018
40019
40020
40022
40023
40025
40026
40027
40004
40006
40007
40008
40010
40011
40012
40013
40014
40018
40019
40020
40022
40023
40025
40026
40027
40031
40036
40041
40045
40046
40047
40048
40050
40051
40052
40055
40056
40057
40058
40059
40065
40066
40067
40068
40070
40071
40075
40076
40077
40104
40107
40108
40109
40110
40111
40115
40117
40118
40119
40121
40140
40142
40143
40144
40145
40146
40150
40152
40155
40157
40160
40161
40162
40165
40170
40171
40175
40176
40177
40178
40201
40202
40203
40204
40205
40206
40207
40208
40209
40210
40211
40212
40213
40214
40215
40216
40217
40218
40219
40220
40221
40222
40223
40224
40225
40228
40229
40231
40241
40242
40243
40245
40250
40252
40258
40259
40272
40280
40291
40292
40299
42701
42712
42716
42721
42724
42726
42732
42740
42748
42754
42776
42784
42788
47102
47104
47106
47111
47119
47122
47124
47126
47129
47130
47131
47132
47138
47141
47143
47146
47147
47150
47151
47162
47163
47170
47172
47177
47230
47231
47243
47250
Show More
Change Location »
Need More Reasons?
ADVANCED TERMITE CONTROL
Nationally, termites do billions of dollars in damage each year. That's why so many homeowners and businesses in Louisville rely on Terminix, the first pest control company to ever obtain a termite patent.

For more than 85 years, our skilled technicians have used the latest technologies to stop termites cold and provide reliable protection from future invasions. And for qualified homes, we offer the Ultimate Protection® Guarantee, the strongest guarantee in the business. If termites come back and do further damage to your home, we will get rid of them and pay for any new damage repairs.2
COMPLETE PEST CONTROL
Look to a Terminix Pest Control Plan for effective and guaranteed protection against dozens of household pests in the Louisville area, including ants, cockroaches, silverfish and spiders. Plus, we have services to control rodents and wildlife, bed bugs and other pest challenges.
LOUISVILLE, KENTUCKY RODENT CONTROL: PREPARE FOR RODENT SEASON
With the arrival of fall comes the emergence of rodents like rats and mice across the Louisville area. Rats and mice can chew through wires, eat drywall and tear insulation, leave droppings behind, and destroy your property and belongings. Terminix can help prevent this problem before it even begins – by inspecting your property and customizing a plan to keep rodents out of your home. With our top-notch preventative actions and effective solutions, mice and rats in Louisville will stay far away from your home and property! Get Louisville rodent control today.
Schedule Inspection »
Frequently asked questions
All Terminix Louisville technicians will be equipped with personal protective equipment (PPE) when entering homes or businesses for peace of mind and prevention. We are actively monitoring updates from the Government and local health officials and continually implementing measures and developing plans to prioritise the health and well-being of our employees and customers.

Yes, Terminix in Louisville offers Commercial Pest Control for property management, food warehouses, manufacturing, restaurants, retail, Government properties and so much more!

Yes, Terminix Louisville offers $50 off of Pest Control* service at the current time. *Offer valid only at participating locations. Single-family dwelling units only. Requires purchase of a new annual residential pest control plan. Offer may not be combined with other offers, bundled service offerings or discounts. Offer not valid for Cockroach Treatment Plan. Additional limitations apply. Not valid for existing pest control customers.

Terminix in Louisville is an essential service provider. Always available to speak 24 hours a day, 365 days a year - we provide rodent control, pest control, bird control, pest proofing, drone survey services, fly & insect control and so much more. Visit our website here to find out more:

www.terminixuk.com/pest-control/

.
Call Now