Terminix
Miami Exterminators, Termite, & Pest Control
Enter your information below or call

305.506.2682

305.506.2682
Terminix Miami
305.506.2682
305.506.2682
US
12015 SW 144th St
Miami

,
FL
33186
Hours of Operation
| | |
| --- | --- |
| Mon | Open 24 hours |
| Tue | Open 24 hours |
| Wed | Open 24 hours |
| Thu | Open 24 hours |
| Fri | Open 24 hours |
| Sat | Open 24 hours |
| Sun | Open 24 hours |
Schedule Inspection »
Ants in South Dade
The Terminix South Dade Branch is staffed by service professionals who know local pest problems inside and out. We live and work in the area. We understand the threat of drywood termites, subterranean termites, mosquitoes, ants, roaches and more in the South Dade area. And we're backed by our nationwide network of expertise.
WE KNOW SOUTH DADE
Watch out for the pesky Florida carpenter ant (Camponotus floridanus). They are known to invade homes and buildings in alarming numbers.

Florida carpenter ants are the largest ants in Florida and can grow from five and a half millimeters to 11 millimeters in length. They are bi-colored, with usual coloring that is part blackish and part brown to light tan. They do not sting, but worker ants of this species can bite and spray a formic acid. They are visible year round, with increased sightings taking place between April and June.

Carpenter ants normally nest in moisture-damaged wood and could even be nesting in the wood in your home. They typically forage for food at night in kitchen areas and around garbage bins. They are also attracted to sweets. They search for moisture and can be frequently seen in bathrooms.

Removing Florida carpenter ants requires tracking these pests back to their nests. This may be a difficult task without professional assistance since their nests are hidden and often difficult to locate. Also, when attempting DIY control measures, you're likely only treating the satellite colony (or sub-colony), not the primary colony, which may be nesting in a tree outside.

If you're having trouble with ants in your home, contact Terminix today for help removing these pests and keeping them away.

Other common ants in Florida include:
Imported red fire ants
Crazy ants
Ghost ants
Pharaoh ants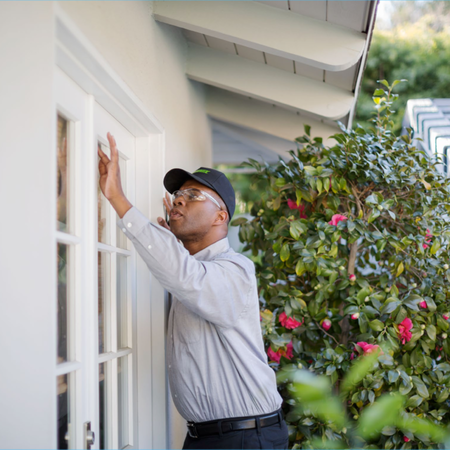 FREE Termite Inspection from Terminix
Termite warning signs depend on the species of termite and could include:
Bugs emerging from wall or posts
Blisters in wood flooring, which look like small cracks or holes
Hollowed or damaged wood
Evidence of the pests themselves, such as discarded wings
Droppings resembling sawdust or coffee grounds
Mud tubes, which look like pencil-sized dirt tunnels, near the base of the home
Early detection and professional termite control can help prevent a small termite problem from becoming an expensive ordeal. Terminix recommends that homeowners have their homes inspected at least once a year.
Schedule your FREE Inspection here today!
Learn more about Termite Control from Terminix here.
Areas We Serve
ZIP Codes Served
ZIP Codes Served
33030
33031
33032
33033
33034
33035
33039
33126
33133
33134
33135
33143
33144
33145
33146
33155
33156
33157
33031
33032
33033
33034
33035
33039
33126
33133
33134
33135
33143
33144
33145
33146
33155
33156
33157
33158
33165
33170
33173
33174
33175
33176
33177
33182
33183
33184
33185
33186
33187
33189
33190
33192
33193
33194
Show More
Change Location »
Need More Reasons?
RELENTLESS PROTECTION AGAINST EVERY PEST THREAT
The Terminix South Dade Branch serves South Miami Dade county, from Flagler Street to Florida City. We protect homes and businesses, offering residential and commercial services to customers seeking effective termite and pest control. Best of all, we offer guaranteed solutions, including a money-back guarantee for pest control1 and the strongest residential termite guarantee in the business for qualifying properties.
ADVANCED TERMITE CONTROL
Nationally, termites do billions of dollars in damage each year. That's why so many homeowners and businesses in South Dade rely on Terminix, the first pest control company to ever obtain a termite patent.

For more than 85 years, our skilled technicians have used the latest technologies to stop termites cold and provide reliable protection from future invasions. And for qualified homes, we offer the Ultimate Protection® Guarantee, the strongest guarantee in the business. If termites come back and do further damage to your home, we will get rid of them and pay for any new damage repairs.2
REVOLUTIONARY MOSQUITO CONTROL
Our mosquito service effectively kills mosquitoes in the South Dade area with a natural active ingredient that's safe around kids and pets. It's proven to significantly reduce mosquito populations in treated areas by more than 90% in just two to three weeks.3 And we'll come back every four weeks to keep the mosquito population down.
Schedule Inspection »
Call Now