Terminix
San Antonio Exterminators, Termite, & Pest Control
Enter your information below or call

866.583.7642

866.583.7642
Terminix San Antonio
866.583.7642
866.583.7642
US
10022 IH 35 North
San Antonio

,
TX
78233
Hours of Operation
| | |
| --- | --- |
| Mon | Open 24 hours |
| Tue | Open 24 hours |
| Wed | Open 24 hours |
| Thu | Open 24 hours |
| Fri | Open 24 hours |
| Sat | Open 24 hours |
| Sun | Open 24 hours |
Schedule Inspection »
RELENTLESS PROTECTION AGAINST EVERY PEST THREAT
The Terminix San Antonio Branch is staffed by service professionals who know local pest problems inside and out — evidenced by multiple Terminix "Awards of Excellence" over the years. We live in the area and work from our location on I-35 North. We understand the threat of termites, ants, roaches, mosquitoes, fleas and more in the San Antonio area. And we're backed by our nationwide network of expertise.
WE KNOW SAN ANTONIO
The Terminix San Antonio Branch serves the San Antonio metro area as well as north to San Marcos. We protect homes and businesses, offering residential and commercial services to customers seeking effective termite and pest control. Best of all, we offer guaranteed solutions, including a money-back guarantee for pest control1 and the strongest residential termite guarantee in the business for qualifying properties.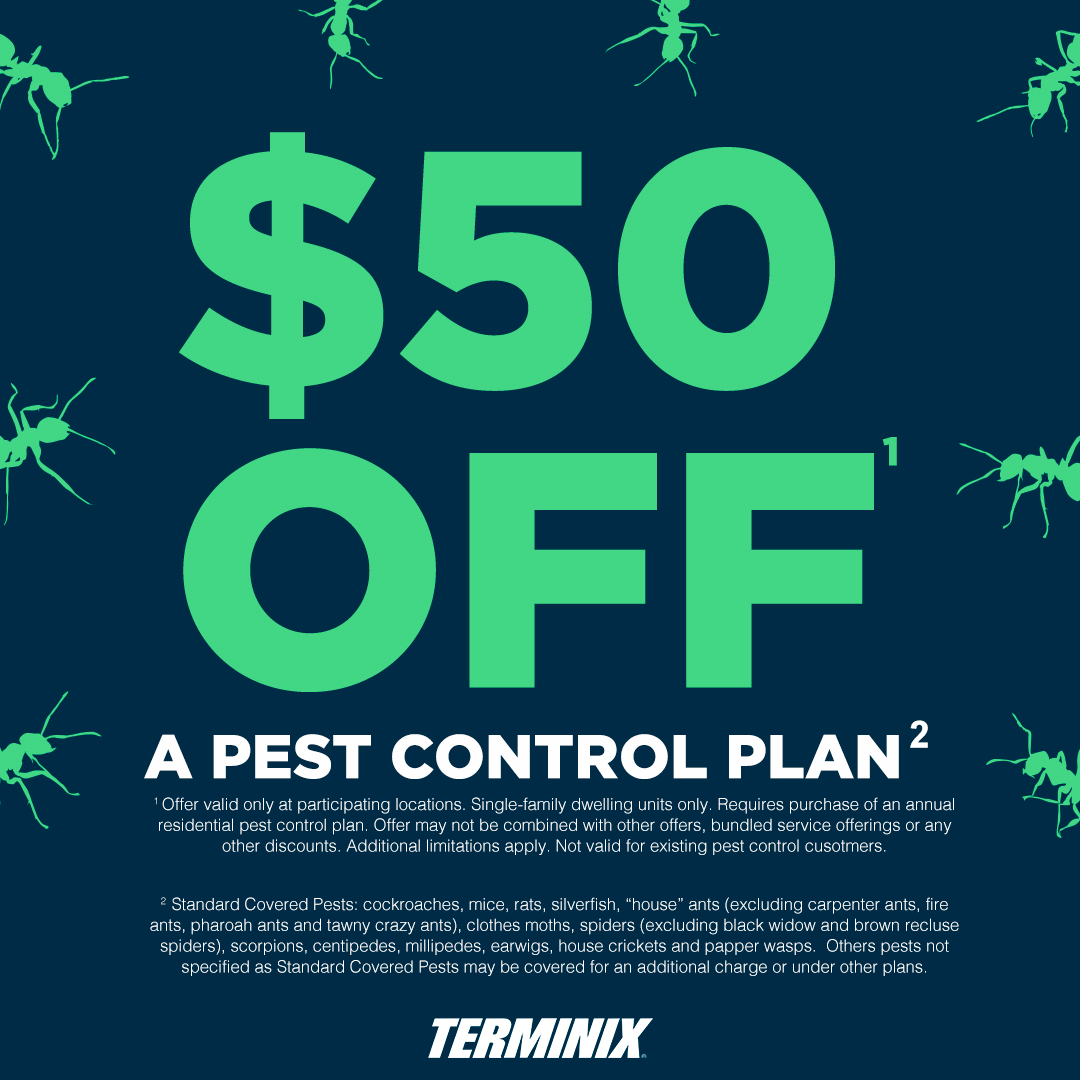 PEST CONTROL FROM TERMINIX
When it comes to your pest problem, the only way to nix it is to Terminix it. Our Pest Control Plan protects your home from these common pests:
Cockroaches
Spiders
Rats & mice
Ants
Clothes Moths
Scorpions
Silverfish
Centipedes & Millipedes
Earwigs
House crickets
Paper wasps
Get started today
Areas We Serve
Cities Served
Cities Served
ARTESIA WELLS
ATASCOSA
BERGHEIM
BIGFOOT
BOERNE
CASTROVILLE
CHARLOTTE
CHRISTINE
COTULLA
DEVINE
HELOTES
JOURDANTON
LA COSTE
LAREDO
LYTLE
MICO
MOORE
NATALIA
PEARSALL
LAKEHILLS
PLEASANTON
POTEET
RIO MEDINA
SOMERSET
ATASCOSA
BERGHEIM
BIGFOOT
BOERNE
CASTROVILLE
CHARLOTTE
CHRISTINE
COTULLA
DEVINE
HELOTES
JOURDANTON
LA COSTE
LAREDO
LYTLE
MICO
MOORE
NATALIA
PEARSALL
LAKEHILLS
PLEASANTON
POTEET
RIO MEDINA
SOMERSET
SPRING BRANCH
VON ORMY
ADKINS
CIBOLO
CONVERSE
ELMENDORF
FLORESVILLE
KENEDY
LA VERNIA
LEESVILLE
MC QUEENEY
MARION
NEW BRAUNFELS
CANYON LAKE
NIXON
UNIVERSAL CITY
RUNGE
SAINT HEDWIG
SCHERTZ
SEGUIN
SMILEY
STOCKDALE
SUTHERLAND SPRINGS
BULVERDE
SAN ANTONIO
FISCHER
GONZALES
HARWOOD
KINGSBURY
LULING
MARTINDALE
MAXWELL
SAN MARCOS
UVALDE
CARRIZO SPRINGS
CATARINA
CRYSTAL CITY
DEL RIO
EAGLE PASS
HONDO
QUEMADO
Show More
ZIP Codes Served
ZIP Codes Served
78001
78002
78004
78005
78006
78009
78011
78012
78014
78015
78016
78023
78026
78039
78040
78041
78043
78052
78002
78004
78005
78006
78009
78011
78012
78014
78015
78016
78023
78026
78039
78040
78041
78043
78052
78056
78057
78059
78061
78063
78064
78065
78066
78069
78070
78073
78101
78108
78109
78112
78114
78119
78121
78122
78123
78124
78130
78132
78133
78140
78148
78150
78151
78152
78154
78155
78159
78160
78161
78163
78201
78202
78203
78204
78205
78207
78208
78209
78210
78211
78212
78213
78214
78215
78216
78217
78218
78219
78220
78221
78222
78223
78224
78225
78226
78227
78228
78229
78230
78231
78232
78233
78234
78235
78236
78237
78238
78239
78240
78241
78242
78244
78245
78247
78248
78249
78250
78251
78252
78253
78254
78255
78256
78257
78258
78259
78260
78261
78262
78263
78264
78266
78284
78623
78629
78632
78638
78648
78655
78656
78666
78801
78834
78836
78839
78840
78852
78861
78877
Show More
Change Location »
Testimonials
Previous
They are great to work with. I have had no real pest problems and when something comes up they are always there to take care of it.
Michael S., Temple, TX
We have received great service for our pest control. All of the people that serviced us over the years have been friendly and trustworthy. Best of all, we do not have any bugs in our house.
James V., San Antonio, TX
On time, friendly and very polite. They made sure all was taken care of, and took into consideration my animals and grandson.
Debra H., Tyler, TX
Next
Need More Reasons?
ADVANCED TERMITE CONTROL
Nationally, termites do billions of dollars in damage each year. That's why so many homeowners and businesses in San Antonio rely on Terminix, the first pest control company to ever obtain a termite patent.

For more than 85 years, our skilled technicians have used the latest technologies to stop termites cold and provide reliable protection from future invasions. And for qualified homes, we offer the Ultimate Protection® Guarantee, the strongest guarantee in the business. If termites come back and do further damage to your home, we will get rid of them and pay for any new damage repairs.2
COMPLETE PEST CONTROL
Look to a Terminix Pest Control Plan for effective and guaranteed protection against dozens of household pests in the San Antonio area, including ants, cockroaches, silverfish and spiders. Plus, we have services to control rodents and wildlife, bed bugs and other pest challenges.
RODENT CONTROL NEAR ME
It's colder than usual in Texas, and with extreme cold outside. When it's this cold outside, rodents like rats and mice are more likely to find their way into your home, searching for warmth, shelter and food. However, there are some steps you can take to help keep rodents out of your home:
Seal potential entry points to help limit mice or rat access to your home.
Trim tree branches touching your home or remove vines on your home to make it more difficult for rats and mice to reach it.
Limit access to food and water by keeping trash can lids sealed and by removing outdoor pet food and water sources to keep your home less appealing to mice and rats.
If rats, mice or other rodents do find their way into your home, we can help get them out. Our experienced rat and mice exterminators are trained to identify a rodent infestation, find how they're getting in and treat the problem to remove them and keep them from coming back. You can
get started with a free inspection
.
Schedule Inspection »
Frequently asked questions
All Terminix San Antonio technicians will be equipped with personal protective equipment (PPE) when entering homes or businesses for peace of mind and prevention. We are actively monitoring updates from the Government and local health officials and continually implementing measures and developing plans to prioritise the health and well-being of our employees and customers.

Yes, Terminix in San Antonio offers Commercial Pest Control for property management, food warehouses, manufacturing, restaurants, retail, Government properties and so much more!

Yes, you can save $50 on a Pest Control Plan at the current time. *Offer valid only at participating locations. Single-family dwelling units only. Valid up to 3,999 square feet. Requires purchase of a new annual residential pest control plan. Offer may not be combined with other offers, bundled service offerings or discounts. Offer not valid for Cockroach Treatment Plan. Service frequency will vary based on geography and type of target pest. AutoPay is required to redeem this offer. Additional limitations apply. Not valid for existing pest control customers.

Terminix in San Antonio is an essential service provider. Always available to speak 24 hours a day, 365 days a year - we provide rodent control, pest control, bird control, pest proofing, drone survey services, fly & insect control and so much more. Visit our website here to find out more:

www.terminixuk.com/pest-control/

.
Call Now