Terminix
Murrieta Exterminators, Termite, & Pest Control
Enter your information below or call

800.597.7148

800.597.7148
Terminix Murrieta
800.597.7148
800.597.7148
US
29990 Technology Drive
Suite 23
Murrieta

,
CA
92563
Hours of Operation
| | |
| --- | --- |
| Mon | Open 24 hours |
| Tue | Open 24 hours |
| Wed | Open 24 hours |
| Thu | Open 24 hours |
| Fri | Open 24 hours |
| Sat | Open 24 hours |
| Sun | Open 24 hours |
Schedule Inspection »
Common pests in Murrieta, CA​​
Nestled in Southwest Riverside County, Murrieta, CA, is a young but rapidly-growing area. Thanks to its warm climate and proximity to larger cities like San Diego and Los Angeles, Murrieta is a popular place for families. But families aren't the only things attracted to Murrieta. Its warm weather makes it an ideal location for different types of pests like stinging pests, termites, bed bugs, rodents and ants.
WE KNOW TEMECULA
Stinging Pests
Stinging pests, like bees, are a vital part of the ecosystem, but they can also be a nuisance. Murrieta is home to Africanized honey bees, yellow jackets and paper wasps. Africanized bees were created in a lab, and while their stings are usually only mildly irritating, some people have severe allergic reactions to them.
Termites
These pests can damage your home or business. Termites can chew through wood and impact structural integrity. Even if you do not live in a wood home, termites can still find their way into cabinets and other wooden structures. Get started with termite control today.
Bed bugs
Bed bugs are infamous for making their homes in beds, but they can travel to other areas of the home as well. Bed bug infestations can spread quickly, and because these pests live in cracks and crevices, they can be hard to find in your home. Get started with bed bug control today.
Rodents
Rodents can cause a headache for your home or business. Rats can contaminate food and water, sometimes causing illness. Plus, their gnawing can damage wiring inside walls. Get started with rodent control today.
Ants
Ants are always looking for sources of food and shelter, making homes one of their prime targets. While they may not cause the damage that termites can, they can be irritating, and it can be difficult to keep them out of your home once a colony forms. Get started with ant control today.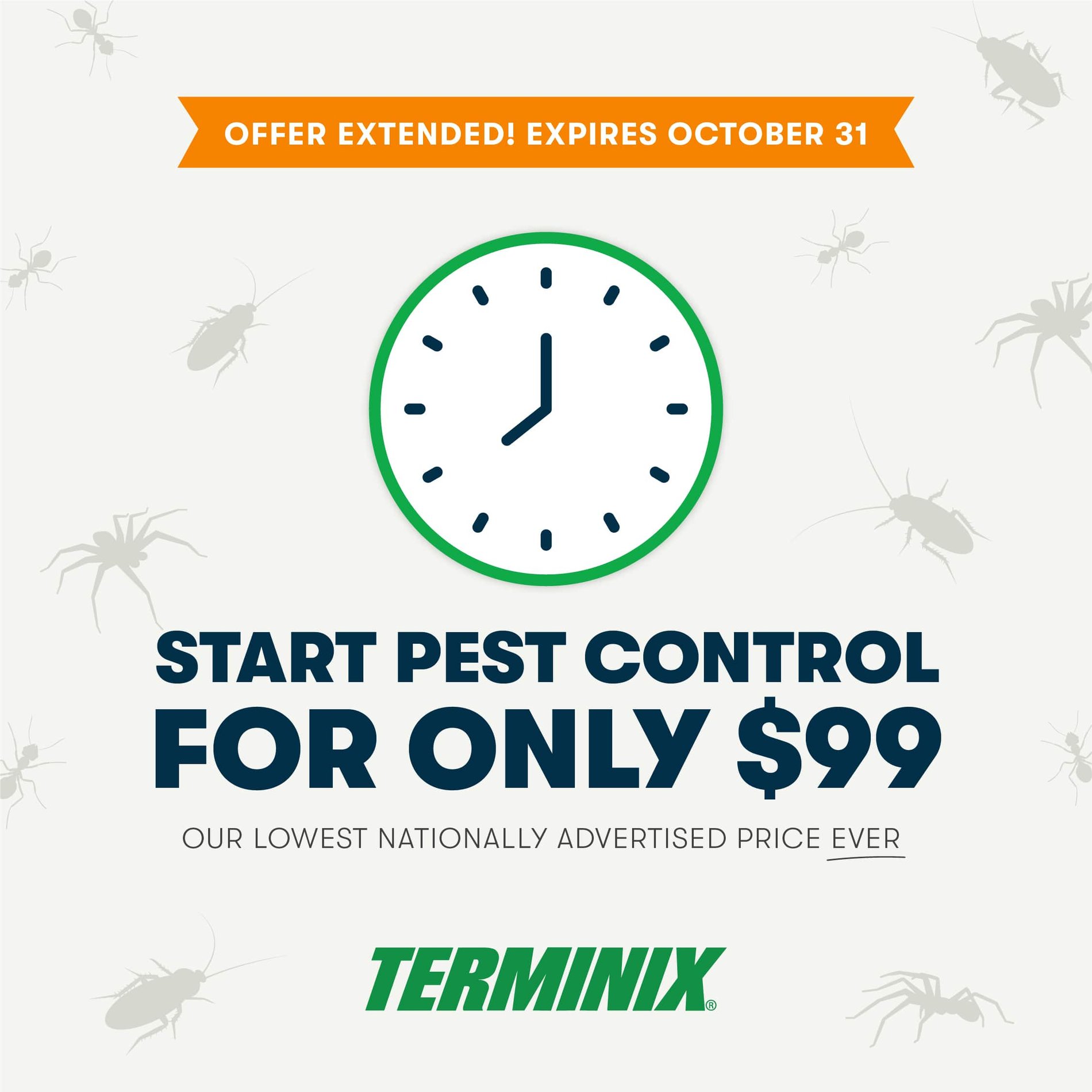 GET PEST CONTROL
Don't miss our lowest nationally advertised price ever on our Pest Control Plan. Protects you from 13 common pests. Offer expires October 31. Only available for new pest control customers. Limitations and exclusions apply.
Get started today!
Areas We Serve
Cities Served
Cities Served
LAKE ELSINORE
HEMET
HOMELAND
MORENO VALLEY
MURRIETA
NUEVO
PERRIS
SAN JACINTO
MENIFEE
SUN CITY
TEMECULA
WILDOMAR
WINCHESTER
CORONA
ZIP Codes Served
ZIP Codes Served
92530
92531
92532
92543
92544
92545
92548
92552
92562
92563
92567
92570
92571
92582
92583
92584
92585
92586
92531
92532
92543
92544
92545
92548
92552
92562
92563
92567
92570
92571
92582
92583
92584
92585
92586
92587
92590
92591
92592
92595
92596
92881
92883
Show More
Change Location »
Need More Reasons?
Mosquito control and exterminator services in Murrieta, CA
Murrieta's consistently warm climate is a major draw for the area, but it can also lead to an increase in pests. Without a cold winter, bugs can be a relentless, year-round problem.

Mosquitoes are attracted to standing water because it's the best place for them to procreate. Because Murrieta has little precipitation, mosquitoes may turn to manufactured areas with standing water, like bird baths or poorly drained areas around homes or businesses when it's time to breed. If you are experiencing a mosquito infestation in Murrieta, it can feel intimidating, but Terminix is here to help.

Terminix knows mosquito control in Murrieta. Our experts know how to handle the area's unique pest problems and will assess infestations to help prevent future issues. Get mosquito control today.
A pest control company that cares
No two infestations are the same, and Terminix is prepared to help handle your specific pest control challenges. Our experts will create customized treatment plans based on your property's needs. We have years of experience in Murrieta pest control, and we use this experience to meet your extermination needs.
Termite control in Murrieta, CA - Free Inspections​
If you're worried about termites in your home or business, Terminix can help with a free inspection. A Terminix pest control expert will come to your home or business and assess the property for signs of infestations. They will use this inspection to create a customized treatment plan to help eliminate the termite problem and future infestations. Schedule your free inspection today.
Schedule Inspection »
Frequently asked questions
All Terminix Temecula technicians will be equipped with personal protective equipment (PPE) when entering homes or businesses for peace of mind and prevention. We are actively monitoring updates from the Government and local health officials and continually implementing measures and developing plans to prioritise the health and well-being of our employees and customers.

Yes, Terminix in Temecula offers Commercial Pest Control for property management, food warehouses, manufacturing, restaurants, retail, Government properties and so much more!

Yes, you can start pest control for $99 at the current time. *Offer valid only at participating locations. Single-family dwelling units only. Valid up to 3,999 square feet. Requires purchase of a new annual residential pest control plan. Offer may not be combined with other offers, bundled service offerings or discounts. Offer not valid for Cockroach Treatment Plan. Service frequency will vary based on geography and type of target pest. AutoPay is required to redeem this offer. Additional limitations apply. Not valid for existing pest control customers. Offer expires 10/31/2021.

Terminix in Temecula is an essential service provider. Always available to speak 24 hours a day, 365 days a year - we provide rodent control, pest control, bird control, pest proofing, drone survey services, fly & insect control and so much more. Visit our website here to find out more:

www.terminixuk.com/pest-control/

.
Call Now