Terminix
Pleasanton Exterminators, Termite, & Pest Control
Enter your information below or call

925.231.4816

925.231.4816
Terminix Pleasanton
925.231.4816
925.231.4816
US
6678 Owens Drive
Ste 100
Pleasanton

,
CA
94588
Hours of Operation
| | |
| --- | --- |
| Mon | Open 24 hours |
| Tue | Open 24 hours |
| Wed | Open 24 hours |
| Thu | Open 24 hours |
| Fri | Open 24 hours |
| Sat | Open 24 hours |
| Sun | Open 24 hours |
Schedule Inspection »
Ants in the Bay Area
The Terminix Pleasanton Branch is staffed by service professionals who know local pest problems inside and out evidenced by our inclusion in the top ranking Terminix branches for 2015. We live in the area and work from our location in Pleasanton. Our team is proud to support the local Toys for Tots and holiday food drives. We understand the threat of ants, spiders, rodents, termites, mosquitoes and more in the San Francisco area. And we're backed by our nationwide network of expertise.
WE KNOW THE BAY AREA
The invasive Argentine ant (Linepithema humile) competes with other ant species in the western United States, including San Francisco. During the California drought, Argentine ants invade and infest homes in search of moisture and humid conditions.

Argentine ants grow to be around one-eighth of an inch long and are a dull brown in color. The Argentine ant emits a musty odor when crushed. It feeds on sweets such as honeydew produced by aphids and fruits. It also feeds on the buds of some plants. It travels rapidly along sidewalks, and nests in and around buildings and homes.

Argentine ants build underground networks of nests connected by trails. Multiple queens are capable of producing large quantities of worker ants that forage for food.

You can help prevent a colony of Argentine ants from infesting your home by keeping all exposed household areas sanitary and free of open containers of food. Additionally, caulk or seal suspected areas where ants may gain entry.

To fully remove Argentine ants from your home, it is necessary to find and eliminate the primary nest, or the problem will likely persist. Contact Terminix today for help.

Other common ants in California include:
Odorous house ants
Pharaoh ants
Carpenter ants
Pavement ants
Red imported fire ants
Southern fire ants
Thief ants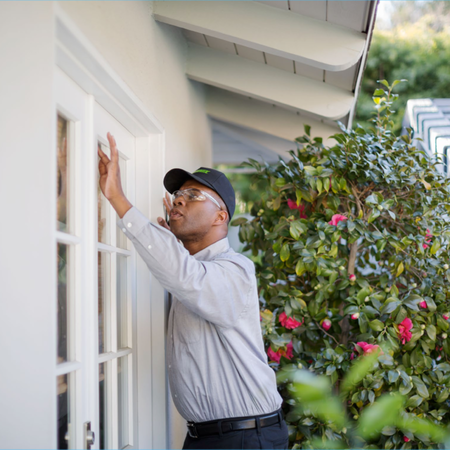 FREE Termite Inspection from Terminix
Termite warning signs depend on the species of termite and could include:
Bugs emerging from wall or posts
Blisters in wood flooring, which look like small cracks or holes
Hollowed or damaged wood
Evidence of the pests themselves, such as discarded wings
Droppings resembling sawdust or coffee grounds
Mud tubes, which look like pencil-sized dirt tunnels, near the base of the home
Early detection and professional termite control can help prevent a small termite problem from becoming an expensive ordeal. Terminix recommends that homeowners have their homes inspected at least once a year.
Schedule your FREE Inspection here today!
Learn more about Termite Control from Terminix here.
Areas We Serve
Cities Served
Cities Served
DISCOVERY BAY
DANVILLE
ALAMO
ANTIOCH
BRENTWOOD
BYRON
CLAYTON
CONCORD
DIABLO
LIVERMORE
OAKLEY
PITTSBURG
PLEASANTON
DUBLIN
SAN RAMON
SUNOL
WALNUT CREEK
ZIP Codes Served
ZIP Codes Served
94505
94506
94507
94509
94513
94514
94517
94518
94519
94520
94521
94526
94528
94531
94550
94551
94561
94565
94506
94507
94509
94513
94514
94517
94518
94519
94520
94521
94526
94528
94531
94550
94551
94561
94565
94566
94568
94582
94583
94586
94588
94595
94596
94597
94598
Show More
Change Location »
Need More Reasons?
RELENTLESS PROTECTION AGAINST EVERY PEST THREAT
The Terminix Pleasanton Branch serves the entire San Francisco Bay Area. We protect homes and businesses, offering residential and commercial services to customers seeking effective termite and pest control. Best of all, we offer guaranteed solutions, including a money-back guarantee for pest control1 and the strongest residential termite guarantee in the business for qualifying properties.
ADVANCED TERMITE CONTROL
Nationally, termites do billions of dollars in damage each year. That's why so many homeowners and businesses rely on Terminix, the first pest control company to ever obtain a termite patent.

For more than 85 years, our skilled technicians have used the latest technologies to stop termites cold and provide reliable protection from future invasions. And for qualified homes, we offer the Ultimate Protection Guarantee, the strongest guarantee in the business. If termites come back and do further damage to your home, we will get rid of them and pay for any new damage repairs.2
COMPLETE PEST CONTROL
Pair San Francisco's mild, moist winters with its famous summer fog and you have plenty of opportunity for pests to find a comfortable home. Look to a Terminix Pest Control Plan for effective and guaranteed protection against dozens of household pests, including ants, cockroaches, silverfish and spiders. Plus, we have services to control rodents and wildlife, bed bugs and other pest challenges.
Schedule Inspection »
Call Now