Terminix
Fort Worth Exterminators, Termite, & Pest Control
Enter your information below or call

817.548.2037

817.548.2037
Terminix Fort Worth
817.548.2037
817.548.2037
US
9625 Camp Bowie West
Fort Worth

,
TX
76116
Hours of Operation
| | |
| --- | --- |
| Mon | Open 24 hours |
| Tue | Open 24 hours |
| Wed | Open 24 hours |
| Thu | Open 24 hours |
| Fri | Open 24 hours |
| Sat | Open 24 hours |
| Sun | Open 24 hours |
Schedule Inspection »
WE KNOW DALLAS/FORT WORTH
The Terminix Fort Worth Commercial Branch serves the greater Forth Worth area. We protect businesses, offering commercial services to customers seeking effective termite and pest control. Best of all, we offer guaranteed solutions, including a 110% money-back guarantee for pest control.1
RELENTLESS PROTECTION AGAINST EVERY PEST THREAT
The Terminix Fort Worth Commercial Branch is staffed by service professionals who know local pest problems inside and out. We live in the area and work from our location near the I-30 and I-820 intersection. We understand the threat of termites, cockroaches, bed bugs, mosquitoes, rodents and more in the DFW area. And we're backed by our nationwide network of expertise.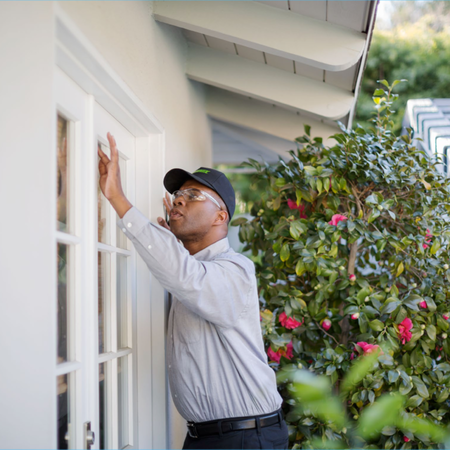 FT. WORTH IS A TOP BED BUG CITY
BED BUGS CAN BE A HASSLE. GETTING READY FOR THEIR TREATMENT SHOULDN'T BE.
INTRODUCING NO-PREP BED BUG SERVICE FROM TERMINIX!
Bed bug treatments from other providers can be a hassle. Many other pest control providers will ask you to do extensive preparations for their treatment, which can take several hours. Putting this much work into preparing for their treatments might make you wonder why you're paying for them at all.
That's why Terminix developed a No Prep Bed Bug Service! This new service from Terminix allows you to get back to the family and work that is important to you.
What are the main signs of Bed Bugs?
Signs of bed bugs may include small, brown (fecal) spots on bedding and small blood smear on the sheets.
What is the best way to treat Bed Bugs?
Terminix Fort Worth's No-Prep Bed Bug Service is ideal to get rid of your potential bed bugs.
How does treatment work with COVID-19? 
We make sure to take every precaution - including wearing the appropriate PPE equipment and contactless payment (where available).
What are other services that Terminix Staten Island offers? 
Terminix is one of the nationwide leaders in Termite & Pest Control, Mosquito Control, and Rodent Control. Call us today to find out more!
Areas We Serve
Cities Served
Cities Served
ARLINGTON
ALEDO
ALVARADO
AZLE
BEDFORD
BOYD
BURLESON
CLEBURNE
COLLEYVILLE
CRESSON
CROWLEY
EULESS
FORRESTON
GLEN ROSE
GODLEY
GRANBURY
GRANDVIEW
GRAPEVINE
HASLET
HURST
ITASCA
JOSHUA
KEENE
KENNEDALE
ALEDO
ALVARADO
AZLE
BEDFORD
BOYD
BURLESON
CLEBURNE
COLLEYVILLE
CRESSON
CROWLEY
EULESS
FORRESTON
GLEN ROSE
GODLEY
GRANBURY
GRANDVIEW
GRAPEVINE
HASLET
HURST
ITASCA
JOSHUA
KEENE
KENNEDALE
MANSFIELD
MAYPEARL
MIDLOTHIAN
MILLSAP
MINERAL WELLS
NEMO
NEWARK
PARADISE
RAINBOW
RHOME
SPRINGTOWN
VENUS
WEATHERFORD
SOUTHLAKE
RIO VISTA
FORT WORTH
HALTOM CITY
NAVAL AIR STATION/ JRB
NORTH RICHLAND HILLS
ALVORD
DECATUR
KELLER
JUSTIN
ROANOKE
STEPHENVILLE
BRIDGEPORT
BRYSON
CADDO
CHICO
BLUFF DALE
GRAFORD
GRAHAM
GORDON
HICO
JACKSBORO
JERMYN
LOVING
LIPAN
MINGUS
SANTO
STRAWN
TOLAR
SOUTH BEND
PALO PINTO
PERRIN
POOLVILLE
WHITT
COVINGTON
IREDELL
ITALY
KOPPERL
WALNUT SPRINGS
Show More
ZIP Codes Served
ZIP Codes Served
76001
76002
76006
76008
76009
76010
76011
76012
76013
76014
76015
76016
76017
76018
76019
76020
76021
76022
76002
76006
76008
76009
76010
76011
76012
76013
76014
76015
76016
76017
76018
76019
76020
76021
76022
76023
76028
76031
76033
76034
76035
76036
76039
76040
76041
76043
76044
76048
76049
76050
76051
76052
76053
76054
76055
76058
76059
76060
76063
76064
76065
76066
76067
76070
76071
76073
76077
76078
76082
76084
76085
76086
76087
76088
76092
76093
76099
76102
76103
76104
76105
76106
76107
76108
76109
76110
76111
76112
76113
76114
76115
76116
76117
76118
76119
76120
76122
76123
76126
76127
76129
76130
76131
76132
76133
76134
76135
76137
76140
76148
76150
76155
76164
76177
76179
76180
76182
76191
76192
76193
76195
76196
76197
76198
76199
76225
76234
76244
76247
76248
76262
76401
76402
76426
76427
76429
76431
76433
76449
76450
76453
76457
76458
76459
76460
76462
76463
76472
76475
76476
76481
76484
76486
76487
76490
76636
76649
76651
76652
76690
Show More
Change Location »
Testimonials
Previous
They are great to work with. I have had no real pest problems and when something comes up they are always there to take care of it.
Michael S., Temple, TX
We have received great service for our pest control. All of the people that serviced us over the years have been friendly and trustworthy. Best of all, we do not have any bugs in our house.
James V., San Antonio, TX
On time, friendly and very polite. They made sure all was taken care of, and took into consideration my animals and grandson.
Debra H., Tyler, TX
Next
Need More Reasons?
ADVANCED TERMITE CONTROL
The DFW climate is conducive to termite activity. In fact, DFW was ranked in the top ten metropolitan areas for termite inquiries in 2015. Nationally, termites do billions of dollars in damage each year. That's why so many homeowners and businesses rely on Terminix, the first pest control company to ever obtain a termite patent.

For more than 85 years, our skilled technicians have used the latest technologies to stop termites cold and provide reliable protection from future invasions. And for qualified properties, we offer the Commercial Damage Protection Plan Guarantee, with up to $300,000 in coverage for termite treatments and damage repairs. You'll get protection through the lifetime of your plan.2
REVOLUTIONARY MOSQUITO CONTROL
Our mosquito service effectively kills mosquitoes with a natural active ingredient that's safe around kids and pets. It's proven to significantly reduce mosquito populations in treated areas by more than 90% in just two to three weeks.3 And we'll come back every four weeks to keep the mosquito population down.
RODENT CONTROL NEAR ME
It's colder than usual in Texas, and with extreme cold outside. When it's this cold outside, rodents like rats and mice are more likely to find their way into your home, searching for warmth, shelter and food. However, there are some steps you can take to help keep rodents out of your home:
Seal potential entry points to help limit mice or rat access to your home.
Trim tree branches touching your home or remove vines on your home to make it more difficult for rats and mice to reach it.
Limit access to food and water by keeping trash can lids sealed and by removing outdoor pet food and water sources to keep your home less appealing to mice and rats.
If rats, mice or other rodents do find their way into your home, we can help get them out. Our experienced rat and mice exterminators are trained to identify a rodent infestation, find how they're getting in and treat the problem to remove them and keep them from coming back. You can
get started with a free inspection
.
Schedule Inspection »
Frequently asked questions
All Terminix Fort Worth technicians will be equipped with personal protective equipment (PPE) when entering homes or businesses for peace of mind and prevention. We are actively monitoring updates from the Government and local health officials and continually implementing measures and developing plans to prioritise the health and well-being of our employees and customers.

Yes, Terminix in Fort Worth offers Commercial Pest Control for property management, food warehouses, manufacturing, restaurants, retail, Government properties and so much more!

Yes, Terminix Fort Worth offers $50 off of Pest Control* service at the current time. *Offer valid only at participating locations. Single-family dwelling units only. Requires purchase of a new annual residential pest control plan. Offer may not be combined with other offers, bundled service offerings or discounts. Offer not valid for Cockroach Treatment Plan. Additional limitations apply. Not valid for existing pest control customers.

Terminix in Fort Worth is an essential service provider. Always available to speak 24 hours a day, 365 days a year - we provide rodent control, pest control, bird control, pest proofing, drone survey services, fly & insect control and so much more. Visit our website here to find out more:

www.terminixuk.com/pest-control/

.
Call Now