Terminix
Woburn Exterminators, Termite, & Pest Control
Enter your information below or call

866.583.7642

866.583.7642
Terminix Woburn
866.583.7642
866.583.7642
US
84 Cummings Park
Woburn

,
MA
01801
Hours of Operation
| | |
| --- | --- |
| Mon | Open 24 hours |
| Tue | Open 24 hours |
| Wed | Open 24 hours |
| Thu | Open 24 hours |
| Fri | Open 24 hours |
| Sat | Open 24 hours |
| Sun | Open 24 hours |
Schedule Inspection »
RELENTLESS PROTECTION AGAINST EVERY PEST THREAT
The Terminix Boston Branch is staffed by service professionals who know local pest problems inside and out. We live and work in the area. We understand the threat of termites, bed bugs, rodents, roaches, bats, squirrels and more in the Boston area. And we're backed by our nationwide network of expertise.
WE KNOW BOSTON
The Terminix Boston Branch serves the greater metropolitan Boston area — from the New Hampshire border; west to Tynsgborough/Westford; southwest to Sudbury, Natick and Dover; and south to Milton/Quincy. We protect homes and businesses, offering residential and commercial services to customers seeking effective termite and pest control. Best of all, we offer guaranteed solutions, including a money-back guarantee for pest control1 and the strongest residential termite guarantee in the business for qualifying properties.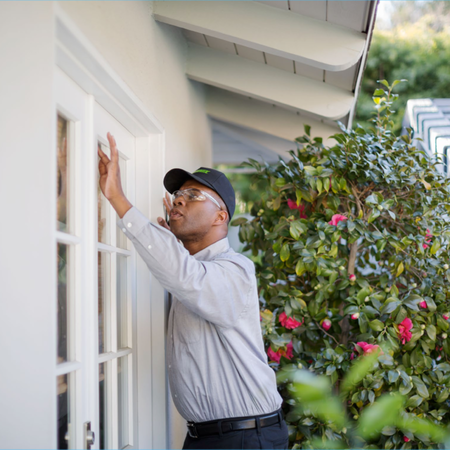 BOSTON IS A TOP BED BUG CITY
BED BUGS CAN BE A HASSLE. GETTING READY FOR THEIR TREATMENT SHOULDN'T BE.
INTRODUCING NO-PREP BED BUG SERVICE FROM TERMINIX!
Bed bug treatments from other providers can be a hassle. Many other pest control providers will ask you to do extensive preparations for their treatment, which can take several hours. Putting this much work into preparing for their treatments might make you wonder why you're paying for them at all.
That's why Terminix developed a No Prep Bed Bug Service! This new service from Terminix allows you to get back to the family and work that is important to you.
What are the main signs of Bed Bugs?
Signs of bed bugs may include small, brown (fecal) spots on bedding and small blood smear on the sheets.
What is the best way to treat Bed Bugs?
Terminix Boston's No-Prep Bed Bug Service is ideal to get rid of your potential bed bugs.
How does treatment work with COVID-19? 
We make sure to take every precaution - including wearing the appropriate PPE equipment and contactless payment (where available).
What are other services that Terminix Boston offers? 
Terminix is one of the nationwide leaders in Termite & Pest Control, Mosquito Control, and Rodent Control. Call us today to find out more!
Areas We Serve
Cities Served
Cities Served
BEDFORD
HANSCOM AFB
CARLISLE
CONCORD
NATICK
LINCOLN
SUDBURY
WAYLAND
WOBURN
BURLINGTON
ANDOVER
BILLERICA
CHELMSFORD
DRACUT
HAVERHILL
GEORGETOWN
GROVELAND
LAWRENCE
METHUEN
NORTH ANDOVER
LOWELL
MERRIMAC
NORTH BILLERICA
NORTH CHELMSFORD
HANSCOM AFB
CARLISLE
CONCORD
NATICK
LINCOLN
SUDBURY
WAYLAND
WOBURN
BURLINGTON
ANDOVER
BILLERICA
CHELMSFORD
DRACUT
HAVERHILL
GEORGETOWN
GROVELAND
LAWRENCE
METHUEN
NORTH ANDOVER
LOWELL
MERRIMAC
NORTH BILLERICA
NORTH CHELMSFORD
NORTH READING
READING
TEWKSBURY
TYNGSBORO
WAKEFIELD
WEST BOXFORD
WESTFORD
WILMINGTON
WINCHESTER
LYNN
SAUGUS
SWAMPSCOTT
NAHANT
AMESBURY
BEVERLY
BOXFORD
BYFIELD
DANVERS
ESSEX
GLOUCESTER
HAMILTON
IPSWICH
LYNNFIELD
MANCHESTER
MARBLEHEAD
MIDDLETON
NEWBURYPORT
NEWBURY
SALISBURY
PEABODY
ROCKPORT
ROWLEY
SALEM
SOUTH HAMILTON
TOPSFIELD
WENHAM
WEST NEWBURY
DOVER
BOSTON
MATTAPAN
CHARLESTOWN
JAMAICA PLAIN
ROSLINDALE
WEST ROXBURY
ALLSTON
BRIGHTON
HYDE PARK
READVILLE
CAMBRIDGE
SOMERVILLE
MALDEN
EVERETT
CHELSEA
REVERE
WINTHROP
MEDFORD
WEST MEDFORD
QUINCY
MELROSE
STONEHAM
MILTON
MILTON VILLAGE
LEXINGTON
BROOKLINE
WALTHAM
NEWTON
NEWTON CENTER
NEWTONVILLE
NEWTON HIGHLANDS
NEWTON LOWER FALLS
NEWTON UPPER FALLS
WEST NEWTON
AUBURNDALE
CHESTNUT HILL
WABAN
WATERTOWN
ARLINGTON
ARLINGTON HEIGHTS
BELMONT
WELLESLEY HILLS
WELLESLEY
NEEDHAM
WESTON
NEEDHAM HEIGHTS
NONANTUM
Show More
ZIP Codes Served
ZIP Codes Served
1730
1731
1741
1742
1760
1773
1776
1778
1801
1803
1805
1806
1807
1810
1821
1822
1824
1826
1731
1741
1742
1760
1773
1776
1778
1801
1803
1805
1806
1807
1810
1821
1822
1824
1826
1830
1832
1833
1834
1835
1840
1841
1842
1843
1844
1845
1850
1851
1852
1853
1854
1860
1862
1863
1864
1867
1876
1879
1880
1885
1886
1887
1889
1890
1901
1902
1903
1904
1905
1906
1907
1908
1913
1915
1921
1922
1923
1929
1930
1936
1938
1940
1944
1945
1949
1950
1951
1952
1960
1961
1966
1969
1970
1982
1983
1984
1985
2030
2108
2110
2111
2112
2113
2114
2115
2116
2117
2118
2119
2120
2121
2122
2123
2124
2125
2126
2127
2128
2129
2130
2131
2132
2133
2134
2135
2136
2137
2138
2139
2140
2141
2142
2143
2144
2145
2148
2149
2150
2151
2152
2153
2155
2156
2163
2169
2170
2171
2176
2180
2186
2187
2199
2203
2205
2208
2209
2210
2215
2222
2238
2420
2421
2445
2446
2451
2452
2453
2454
2458
2459
2460
2461
2462
2464
2465
2466
2467
2468
2471
2472
2474
2475
2476
2478
2481
2482
2492
2493
2494
2495
Show More
Change Location »
Need More Reasons?
ADVANCED TERMITE CONTROL
Nationally, termites do billions of dollars in damage each year. That's why so many homeowners and businesses in Boston rely on Terminix, the first pest control company to ever obtain a termite patent.

For more than 85 years, our skilled technicians have used the latest technologies to stop termites cold and provide reliable protection from future invasions. And for qualified homes, we offer the Ultimate Protection® Guarantee, the strongest guarantee in the business. If termites come back and do further damage to your home, we will get rid of them and pay for any new damage repairs.2
BOSTON RODENT CONTROL: PREPARE FOR RODENT SEASON
With the arrival of fall comes the emergence of rodents like rats and mice across the Boston area. Rats and mice can chew through wires, eat drywall and tear insulation, leave droppings behind, and destroy your property and belongings. Terminix can help prevent this problem before it even begins – by inspecting your property and customizing a plan to keep rodents out of your home. With our top-notch preventative actions and effective solutions, mice and rats in Boston will stay far away from your home and property! Get Boston rodent control today.
EFFECTIVE BED BUG TREATMENTS
Bed bugs are back, and it seems they're everywhere — even in Boston. But while a bed bug infestation may seem unstoppable, we're fully equipped to take out these intruders. We'll create a customized plan to put bed bugs and their eggs down for good.
Schedule Inspection »
Frequently asked questions
All Terminix Woburn technicians will be equipped with personal protective equipment (PPE) when entering homes or businesses for peace of mind and prevention. We are actively monitoring updates from the Government and local health officials and continually implementing measures and developing plans to prioritise the health and well-being of our employees and customers.

Yes, Terminix in Woburn offers Commercial Pest Control for property management, food warehouses, manufacturing, restaurants, retail, Government properties and so much more!

Yes, Terminix Woburn offers $50 off of Pest Control* service at the current time. *Offer valid only at participating locations. Single-family dwelling units only. Requires purchase of a new annual residential pest control plan. Offer may not be combined with other offers, bundled service offerings or discounts. Offer not valid for Cockroach Treatment Plan. Additional limitations apply. Not valid for existing pest control customers.

Terminix in Woburn is an X16essential service provider. Always available to speak 24 hours a day, 365 days a year - we provide rodent control, pest control, bird control, pest proofing, drone survey services, fly & insect control and so much more. Visit our website here to find out more:

www.terminixuk.com/pest-control/

.
Call Now