Terminix
Grovetown Exterminators, Termite, & Pest Control
Enter your information below or call

706.854.7717

706.854.7717
RELENTLESS PROTECTION AGAINST EVERY PEST THREAT
The Terminix Grovetown Branch is staffed by service professionals who know local pest problems inside and out. We live in the area and work from our branch on U N Ct in Grovetown . We understand the threat of cockroaches, ants, termites, bed bugs, rodents and more in the Grovetown area. And we're backed by our nationwide network of expertise.
WE KNOW GROVETOWN
The Terminix Grovetown branch serves Grovetown and it's surrounding areas. We protect homes and businesses, offering residential and commercial services to customers seeking effective termite and pest control. Best of all, we offer guaranteed solutions, including a money-back guarantee for pest control1 and the strongest residential termite guarantee in the business for qualifying properties.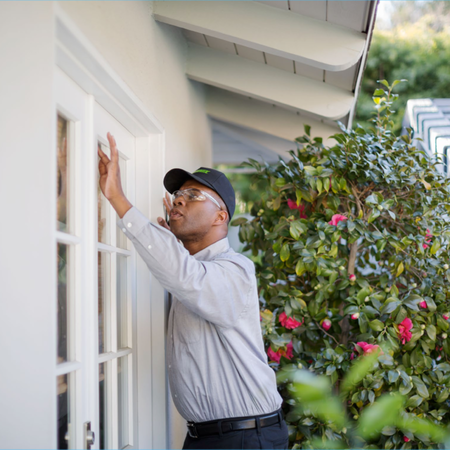 FREE Termite Inspection from Terminix
Termite warning signs depend on the species of termite and could include:
Bugs emerging from wall or posts
Blisters in wood flooring, which look like small cracks or holes
Hollowed or damaged wood
Evidence of the pests themselves, such as discarded wings
Droppings resembling sawdust or coffee grounds
Mud tubes, which look like pencil-sized dirt tunnels, near the base of the home
Early detection and professional termite control can help prevent a small termite problem from becoming an expensive ordeal. Terminix recommends that homeowners have their homes inspected at least once a year.
Schedule your FREE Inspection here today!
Learn more about Termite Control from Terminix here.
Need More Reasons?
UNMATCHED WILDLIFE AND RODENT CONTROL
Grovetown has it's fair share of rodents and wildlife. We remove wildlife, such as rats, squirrels, raccoons, birds, armadillos and other small animals, that can cause damage to your home. Then we customize a solution to keep them out. And as long as you keep your plan, if they return, so will we (at no extra cost).3
COMMERCIAL PEST CONTROL & WILDLIFE SERVICES
Grovetown business owners - help ensure that your commercial building is protected from pests and wildlife. A Terminix Commercial Pest control plan will give you everything you need to help protect the property from pests and pest damage, as well as helping to protect your employees and customers. From bird control to bed bug services, we've got Grovetown covered. There's simply no room for pests in a clean, sanitary and well-run business.
GET HASSLE-FREE PROTECTION
Terminix is a Better Business Bureau accredited business and earned the Women's Choice Award as America's Most Recommended Pest Control Service in 2014 and 2015. If you're looking for an exterminator, contact Terminix today.
Schedule Inspection »
Call Now