Terminix Termite & Pest Control
Orlando Exterminators, Termite, & Pest Control
Enter your information below or call

407.854.4685

407.854.4685
Terminix Termite & Pest Control Orlando
407.854.4685
407.854.4685
US
2423 Sand Lake Rd
Suite 100
Orlando

,
FL
32809
Hours of Operation
| | |
| --- | --- |
| Mon | Open 24 hours |
| Tue | Open 24 hours |
| Wed | Open 24 hours |
| Thu | Open 24 hours |
| Fri | Open 24 hours |
| Sat | Open 24 hours |
| Sun | Open 24 hours |
Schedule Inspection »
Common Pests in Orlando
Some of the most common pests in the Orlando area include:
Ants: The Orlando area is home to a wide range of ants, including fire ants, ghost ants, pharaoh ants, carpenter ants and more. Some ants, like the carpenter ant, can be destructive and can cause problems for homes and businesses. Others, like the fire ant or twig ant, can inflict painful, venomous bites.
Cockroaches: There are several different species of cockroaches common to the Orlando area. They reproduce quickly, so an infestation can get out of hand fast. They can cause damage to paper and wood in building interiors. Some can even produce a secretion that can be a harmful irritant to the skin, and cause nausea for some people through their sense of smell. In fact, anything they walk across or touch can become contaminated with a number of disease pathogens. Additionally, cockroaches can cause allergies in some people.
Termites: The Orlando area is a perfect home for termites, which can cause thousands of dollars' worth of damage to a home or business. The Formosan termite, one of the most aggressive species in the United States, is particularly prevalent in the Orlando area. Also common in the area are the Eastern subterranean termite and the drywood termite.
Bed bugs: As travelers to the Orlando area increase, so too does the potential for bed bugs to be carried from place to place. That means they can easily be introduced to your home or business by people who have been in contact with bed bugs.
Mosquitoes: Mosquitoes thrive on the high humidity and standing pools of water typical in Orlando in the spring, summer and fall. While all mosquitoes are a nuisance, two particularly common in Orlando are more so. The Asian Tiger mosquito and Yellow Fever mosquito are capable of transmitting a number of serious diseases.
Spiders: Spiders and their webs can be a common site indoors and out in the Orlando area. While some spiders, like the wolf spider, look menacing, they often avoid humans and prove little threat. But others, like the black widow and brown widow spiders are venomous.
Pest Control & Exterminator Services in Orlando
The Orlando area's warm, humid climate makes it an outstanding place to live and enjoy the outdoors year-round. But the area's climate and soft soil also make it a popular place for a number of pests. These pests can range from annoying or destructive to dangerous. When you're looking for effective pest control near you, remember this: The right preventive strategies and professional pest control make the difference for home and business owners in Orlando.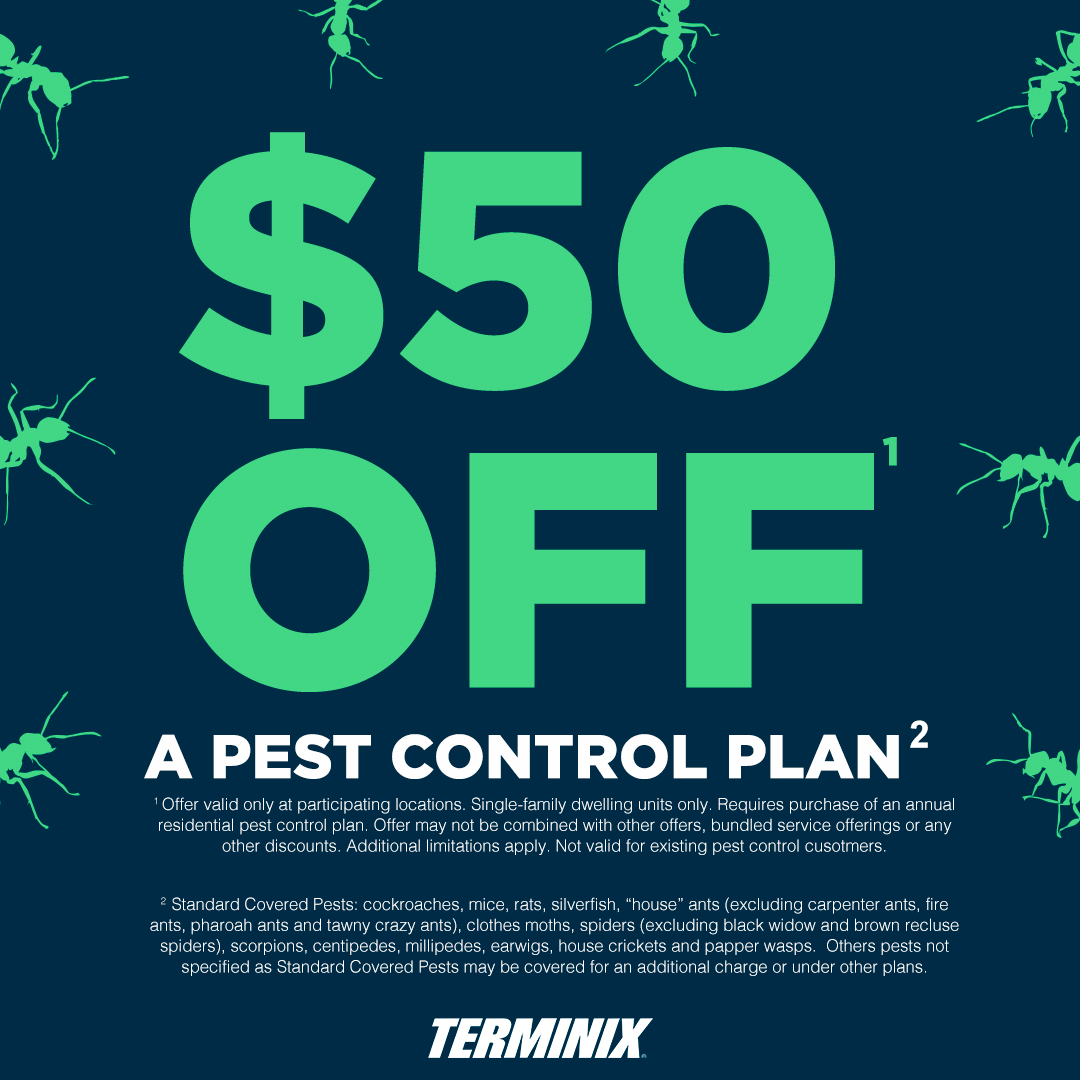 PEST CONTROL FROM TERMINIX
When it comes to your pest problem, the only way to nix it is to Terminix it. Our Pest Control Plan protects your home from these common pests:
Cockroaches
Spiders
Rats & mice
Ants
Clothes Moths
Scorpions
Silverfish
Centipedes & Millipedes
Earwigs
House crickets
Paper wasps
Get started today
Areas We Serve
Cities Served
Cities Served
APOPKA
CHRISTMAS
WINTER PARK
ORLANDO
GOTHA
KENANSVILLE
KILLARNEY
KISSIMMEE
OAKLAND
OCOEE
SAINT CLOUD
WINTER GARDEN
WINDERMERE
ZIP Codes Served
ZIP Codes Served
32704
32709
32789
32790
32792
32801
32802
32803
32804
32805
32806
32807
32808
32809
32811
32812
32814
32816
32709
32789
32790
32792
32801
32802
32803
32804
32805
32806
32807
32808
32809
32811
32812
32814
32816
32817
32818
32819
32820
32821
32822
32824
32825
32826
32827
32828
32829
32830
32831
32832
32833
32834
32835
32836
32837
32839
32856
32859
32861
32862
32885
32886
32887
32897
34734
34739
34740
34743
34744
34760
34761
34769
34771
34772
34773
34777
34786
34787
Show More
Change Location »
Need More Reasons?
A Pest Control Company that Cares
Understanding what pests are predominant in the Orlando area and having the expertise to manage them are key factors in being able to keep your home and business protected. Terminix® offers a complete range of targeted services designed to protect homes and businesses from the nuisances pests can cause. Trust Terminix for over 90 years of experience and trained pest professionals to help get rid of your pest problem and help to prevent it from recurring.
EFFECTIVE BED BUG TREATMENT & INSPECTIONS
Bed bugs are back, and it seems they're everywhere — even in Orlando. But while a bed bug infestation may seem unstoppable, we're fully equipped at the Orlando branch to take out these intruders. We'll create a customized plan to put bed bugs and their eggs down for good. Call today or visit here: to schedule a FREE Bed Bug Inspection.
ORLANDO RODENT CONTROL: PREPARE FOR RODENT SEASON
With the arrival of fall comes the emergence of rodents like rats and mice across the Orlando area. Rats and mice can chew through wires, eat drywall and tear insulation, leave droppings behind, and destroy your property and belongings. Terminix can help prevent this problem before it even begins – by inspecting your property and customizing a plan to keep rodents out of your home. With our top-notch preventative actions and effective solutions, mice and rats in Orlando will stay far away from your home and property! Get Orlando rodent control today.
Schedule Inspection »
Frequently asked questions
All Terminix Orlando technicians will be equipped with personal protective equipment (PPE) when entering homes or businesses for peace of mind and prevention. We are actively monitoring updates from the Government and local health officials and continually implementing measures and developing plans to prioritise the health and well-being of our employees and customers.

Yes, Terminix in Orlando offers Commercial Pest Control for property management, food warehouses, manufacturing, restaurants, retail, Government properties and so much more!

Yes, you can save $50 on a Pest Control Plan at the current time. *Offer valid only at participating locations. Single-family dwelling units only. Valid up to 3,999 square feet. Requires purchase of a new annual residential pest control plan. Offer may not be combined with other offers, bundled service offerings or discounts. Offer not valid for Cockroach Treatment Plan. Service frequency will vary based on geography and type of target pest. AutoPay is required to redeem this offer. Additional limitations apply. Not valid for existing pest control customers.

Terminix in Orlando is an essential service provider. Always available to speak 24 hours a day, 365 days a year - we provide rodent control, pest control, bird control, pest proofing, drone survey services, fly & insect control and so much more. Visit our website here to find out more:

www.terminixuk.com/pest-control/

.
Call Now